itsmoonblaze asked: what did you think of the new episode?
Ehhh, oddly I didn't like it much…I got really excited for the premise because I love the idea of Daring Do books in the MLPverse. And the lesson that anyone can like reading was a lovely moral for her first appearance…but the idea that she actually exists just kind of broke my willing suspension of disbelief. I was actually quite convinced that it would end up being some kind of dream sequence at the end of the episode, which is an ending I usually hate, but there was just such a dissonance between what I was seeing, and the world that they established in Read it and Weep that in my head I thought that was the only way they could pull it off. 
I mean Daring Do exists…and no one knows about it? Though she's apparently a famous author and such? And fights a giant Aztec God for the sake of the world?
And they played it surprisingly straight. If they wanted to do an episode about that they could have put a spin on it, maybe make her life mirror the books instead of outright being the books. Like if she had to deal with an evil publisher similar to her arch villain, and outrun rabid fans like the death traps from the books, or something along those lines. The idea that all of those books are real adventures, and no one knows, is kind of a sudden idea to spring up. Not to mention the rest of the main cast seemed to hang in the background way more than usual in this episode, and the pacing felt a bit weird. 
But the lesson was slightly resonant. As someone who occasionally gets put on a pedestal, and who gets to occasionally meet fandom people whom I put on a pedestal, it's interesting to see a lesson about it. I often doubt my own talents when working with someone whom I view as 'Greater' and people I've worked with have confided in me the same feeling. It's something that does happen, and it's nice to see it addressed, but I felt it could have been done better. 
Overall, I found that the first hurdle of Daring Do actually existing just didn't gel with me, and I felt like it kind of ruined the episode. I don't usually watch many analysis videos, but I looked around at them this time out and saw lots of people felt similarly. Digibrony hit almost every point I had a problem with, and I suggest checking it out. 
The episode does have its values though, it was entertaining at points, and had many great expressions. Which will never be abused by the internet at all…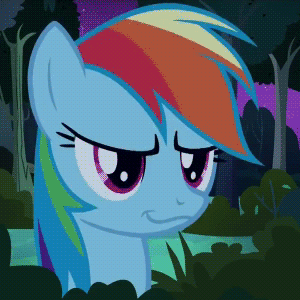 Ever….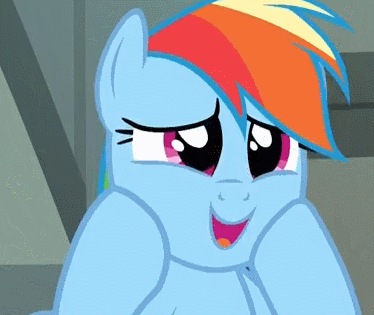 (Though seriously, with that first one….I mean….wow animators…wow…Though I must admit this bolsters my Appledash love since one would only ever make a face like that i-)